Dunea innovates with European sustainability subsidy
Dutch drinking water company and nature manager Dunea has signed a contract with the European Union on behalf of its research partners. A subsidy of 3,1 million euros will now become available for innovative research into brackish groundwater extraction and purification. This could mean both a new source for the production of drinking water as well as more space for the storage of fresh water in the dunes.
The FRESHMAN project is an innovative brackish water project, which is being carried out in collaboration with research institute KWR, circular innovator Allied Waters and Belgian drinking water companies De Watergroep and IWVA. The project takes place at Dunea's largest drinking water production site in Scheveningen. There is a freshwater lens under the dunes, filled with pre-purified river water, which Dunea pumps from far to the dunes. "We have a process that is becoming more and more vulnerable as the water discharge via the Meuse and the Rhine becomes more erratic, the risk of pollution increases and above-ground construction ambitions increasingly affect our vital infrastructure," explains Wim Drossaert, CEO of Dunea. "With different sources and more purification techniques, we will be able to continue supply of drinking water under all kinds of circumstances."
The research
At the bottom of the freshwater lens, the water is too salty for drinking water production using the current treatment. In the FRESHMAN project, which stands for "Sustainable Freshwater Management in coastal zones", this water is pumped up and desalinated with membranes using a multi-filter extraction well (Reverse Osmosis). The effect of this is twofold: the strategic freshwater supply underground increases and brackish groundwater becomes suitable for the production of drinking water. The freshwater lens growth is monitored closely throughout the project, through various monitoring wells.
LIFE
The FRESHMAN project is funded by LIFE, a grant program from the European Union. The aim of LIFE is to support innovative projects that fit into the European nature, environment and climate policy. The subsidy applications from April 2019 had to be about developing and putting into practice concrete solutions in the field of water and climate. The latter will now happen in Scheveningen and will then be repeated along the Belgian coast at Avekapelle, by the Flemish research partners.
Long-term
This pilot is an opportunity for Dunea to build in more long-term security of drinking water supply. In the short term, meeting the water demand of the rapidly growing population in the region can only be achieved through the existing system. Drossaert: "Whether extraction of brackish groundwater will be part of the robust source mix that we aim for in the long term will of course depend on the success of the FRESHMAN project." The study will start in July 2020 and will last more than five years.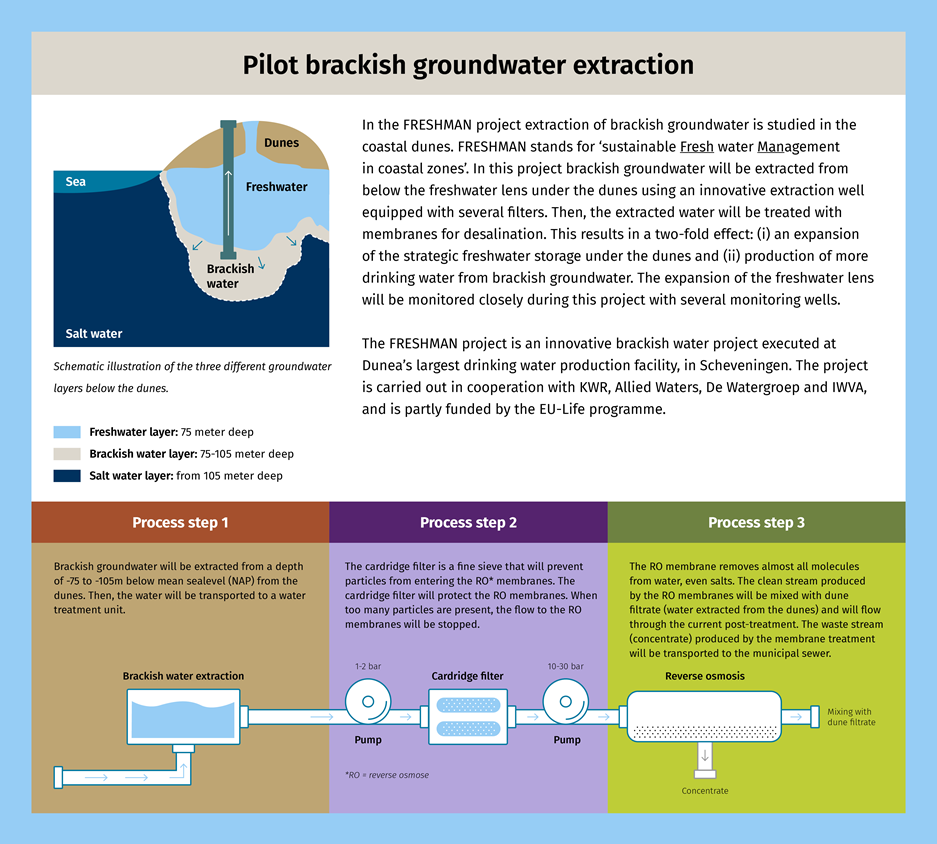 Click on the image to enlarge
More information
Visit our page 'The Freshman-project'.